Smoke, Baby...
Writing is no longer an act of free will for me, it's a matter of Survival - P. Auster
Hardly Garbage
Jessica is Sijeka
[sijeka at gmail dot com]
Profile
Europe & Canada
Politricks & music
Arts & Rock'n'Roll

maystar * designs
martes, diciembre 30, 2003
bored. sorry bout that. soon enough this blog will look like your perfect teenager journal.

my 2003


1. What did you do in 2003 that you'd never done before?
Seen the Stones in Madrid. Understood that when it comes to relationships, no matter what you do and how you do it, you always end up being screwed. Visited 4 museums in two days in London. Worked in a clothes shop. Seen Justin Timberlake.

2. Did you keep your new year's resolutions, and will you make more for next year?
I don't do this kinda things. It's for losers. (insert Daria-voice)

3. Did anyone close to you give birth?
I don't think so.

4. Did anyone close to you die?
No. Good.

5. What countries did you visit?
Spain (Madrid) and UK (London and Kent) and that's it really.

6. What would you like to have in 2004 that you lacked in 2003?
Good music on the radio. Never being bored. Love?

7. What date from 2003 will remain etched upon your memory, and why?
I think the day I learned I passed my exams. Nerdy but, oh, the fucking stress/relief.

8. What was your biggest achievement of the year?
This is when i start being depressed because i don't see how to answer this question.

9. What was your biggest failure?
Not being strong/proud enough on some subjects i suppose.

10. Did you suffer illness or injury?
No. Minus i nearly cut my finger off a couple of months ago.


11. What was the best thing you bought?
Tickets to London. Musk perfume.

12. Whose behavior merited celebration?
My mother.

13. Whose behavior made you appalled and depressed?
So cliché, but... people who gave up believing and hoping as far as politics and life, social issues and art are concerned.

14. Where did most of your money go?
Music, cinema, renting movies, books and cigarettes, oh, train tickets.

15. What did you get really excited about?
-seeing the Roots in concert
-seeing the Stones in concert
-going to Spain
-the prospect of moving to Canada next year
-having a new piercing
-e-losophy
-writing stuff


16. What song(s) will always remind you of 2003?
"hey ya" andre 3000
"obstacle 1" interpol
"who am i" lou reed
"cry me a river" justin timberlake
"song for the girl" matthew good

17. Compared to this time last year, are you:
i. happier or sadder? i don't remember
ii. thinner or fatter? same
iii. richer or poorer? slightly richer but wtf cares

18. What do you wish you'd done more of?
more concerts, smiled more, studied more (my economics, shhh)

19. What do you wish you'd done less of?
being moody and being betrayed

20. How will you be spending Christmas?
i spent with my family

22. Did you fall in love in 2003?
maybe

23. How many one-night stands?
one night stands? jeez, none

24. What was your favorite TV program?
the West wing, Six feet under, Queer as Folk

25. Do you hate anyone now that you didn't hate this time last year?
Dick Cheney. I hated him before but not HATED him y'know?

26. What was the best book you read?
Girlfriend in a coma by Douglas Coupland.

27. What was your greatest musical discoveries?
Amy Winehouse, Interpol, the Vines, Matthew Good solo, Stephanie McKay, the Thermals

28. What did you want and get?
Digital camera

30. What was your favorite film of this year?
Mmmm that's one tricky question. the 25th Hour

31. What did you do on your birthday?
Amazing friends gave me very cool presents. We went out and drank but it was a monday so no one was out so we came back before 1. Ha, ha, ha.

32. What one thing would have made your year immeasurably more satisfying?
NOT having to work in a clothes shop.

33. How would you describe your personal fashion concept in 2003?
Boho meets Retro in Black

34. What kept you sane?
Boris. I love you!

35. Which celebrity/public figure did you fancy the most?
Peter Kraus

36. What political issue stirred you the most?
Do you really want me to BEGING answering this question? I don't think so.

37. Who did you miss?
He fucking well knows who he is.

38. Who was the best new person you met?
Mmmm i think Bryan

39. Tell us a valuable life lesson you learned in 2003:
"don't push me / cos i'm close to the edge/ I'm trying/ not to lose my head" (Furious five)

40. Quote a song lyric that sums up your year:
"I'm not a joke, this is me" (c) Nelly Furtado


Well usually I don't do this but-errr...(c) R.Kelly
Plus, that's right, i'm a Chomsky fan. And i dig Kerouac!
You're the Hipster Intellecticus. Call yourself
what you will (beatnik, philosophy major,
liberal arts student), you're still hip and you
still dig Kerouac.
What Kind of Hipster Are You?
brought to you by
Quizilla
lunes, diciembre 29, 2003
That's true, what i keep hearing about Dennis Kucinich, Congressman representing Ohio.
His
program/opinions
are, in my eyes of course, almost flawless.
If only someone like him would win.
Anyone noticed how clever is his tag line?
"For an American that will inspire the world once more".
Ummm.
Pop whoring pt.1451.
Best Justin Timberlake photo ever:
"Bad boy? Whatchagonnado..."
Seriously tho', that's is why i think he is *somehow* the man. He's taking risks.
viernes, diciembre 26, 2003
How could i forget to mention the best Xmas song ever made? Another lonely Xmas by Prince, to which i have listenned to 5 times today.

Last night I spent another lonely Christmas
Darling, darling, u should've been there
Cuz all the 1s I dream about
U are the 1 that makes my love shout
U see, u are the only 1 I care 4

Remember the time we swam naked
In your father's pool?
Boy he was upset that night
But boy was that ever cool

Remember the night we played pokeno 4 money
And u robbed me blind
Remember how u used 2 scream so loud
Cuz u hated that number 9

Hey, I saw your sister skating on the lake
This afternoon
Good Heaven how she's grown
She swoons the boy skaters she's so tall

But of all your father's children
All your father's children, baby
U know, u are the finest of them all
U are brighter than the northern star

My momma used 2 say
Always trust your lover
Now I guess that only applies 2 her

Cuz baby u promised me
Baby u promised me u'd never leave
Then u died on the 25th day of December
Oh baby

Your father said it was pnemonia
Your mother said it was strep
But the doctor said u were dead
And I, I say its senseless

Every Christmas night 4 7 years now
I drink banana daquaris 'til I'm blind
As long as I can hear u smilin' baby
U won't hear my tears
Another lonely Christmas is mine
Yeah, mine
Yeah
Another lonely Christmas is mine

... And i'm a good year late, but here's another canadian rock
band
which rocks my world.
Great music.
miércoles, diciembre 24, 2003
Best Nerve Fiction
i've read so far. This is just brilliant.
Other than that, well.... Happy Festivus and everything i suppose.
martes, diciembre 23, 2003
Oh my i so HATE him. A friend IM'ed me earlier telling me:

"I'm so into the Darkness right now"

For those of you who dunno, this is a Queen wannabe band.

And for HOURS now the line 'I believe in a thing callledddd looove!' has been stuck in my brain.

DAMN HIM! DAMN THE DARKNESS! FAKE AXL ROSE HAIRCUT WITH HIGHPITCHED VOICE DUDE! ARRRGHHHH!

domingo, diciembre 21, 2003
So being in my heavy Douglas Coupland phase, I finished "Hey Nostradamus", his latest book in two days. I can safely say it's one of his best work to date. Like i've discussed with a friend this week, the best thing aout this writer is that he's not an idealist in the way that he sees that our world is falling apart, but somehow manages to stay optimistic and believe in as basic things as love and hope.
But more importantly, I feel like Coupland manages to write down what many people (well, me anyway) are trying to say everyday but can't quite do it efficiently:
'I think social and moral disengagement is repugnant. In the book [ Hey, Nostradamus! ] the opposite of labour is theft not leisure. And that's very much how I feel but there is part of me that wants to leave everything, like now. And I kind of fight that every day. The rational part of me says no you have to stay and engage in the culture and if you don't you're a coward."
(From the excellent Guardian article
here
).
And everytime a writer does it for me, i begin to believe in magic again.
sábado, diciembre 20, 2003
Hello It's me

I am not sure why i think Lou Reed & John Cale's song 'Hello, It's me', their last good bye to Andy Warhol recorded in 1991 featuring in their hommage-cd to the Pop greatest mann Songs for Drella, is one of the best song ever recorded.

I think it has to do with the immortal feel of it. As a song dealing with death, loss and regret, it does an amazing thing at turning personal feelings (Lou Reed singing to Andy how he's sorry about their fights and arguments, even if too late) into universal ones.

Yes, that's it. They universalized these feelings so well the listenner feels like he knew Andy and shared his lofe with him too, therefore must grieve with Reed and Cale as "one of them".

But maybe it's just me, for all i know. I can't help it, everytime i listen to it i feel like crying and smiling at the same time, for it makes me realise no one is going to escape death (wow, this is news Jessica! You're so fucking bright!), and therefore urge me to consider life as a beautiful, amazing yet émephère thing.

Maybe that's another goal for Art. Making their audience realise they don't have that much time left, and that after all, instead of just sitting there listenning to music or watching a movie, they should go out and enjoy real life.

miércoles, diciembre 17, 2003
Via Nwswk's Perspectives column:

"That's how Google works... We got the volume in a few weeks..."
-
Takebackthemedia.com's
Don Waller, on bloggers' typing the US President's name in the same sentence as "miserable failure" on Google enough times that anyone who later typed "miserable failure" in the search engine was taken to Bush's White House bio.
Ok, just like Savage's Santorum attack, it's brilliant resistance. This is the democratic power of the web. We gotta take the power back!
ps: Takebackthemedia.com is actually a great site. I just discovered it but i like their goal a lot. Hear what they have to say about the Iraq situation vs Media:
"We are fed hours and hours of distraction instead of hard news. Instead of hearing both sides of the debate on the pending war on Iraq, we are given hours of justification for going to war. The anti-war position is marginalized, even mocked, by supposedly 'objective' journalists. Instead of an open debate on both sides of any issue, the side which will benefit the Corporate Media is advanced as the 'correct' side. "
A-men.
domingo, diciembre 14, 2003
So Saddam Hussein is arrested.

Big deal? I'd say symbolic for Americans (the war is "over", how does it feel?), for Iraq's opressed people that he killed, tortured for years, for the Kurds, and for anyone who had to suffer because of his dictatorship.

The end tho', is only symbolic, for there is no end. What future for Iraqi's people? What form of westernized democracy will be instaured? and by who? Will the US finally look at the UN, and turn to this organization to rebuild Iraq? I definitely don't think so. Because having Hussein caught is the best way for them to gain more strenght in the eyes of American people, and clearly a way to underline the fact that they couldn't care less about international organizations, political ones, for which they signed conventions.

For Hussein should be brought to court, to the ICJ (Internatonal court of Justice), just like Milosevic. And unfortunately, i suppose he'll just go to some dark and close Guantanamo Bay cell or something similar, and no one will know for sure what will happen to him.

That is a damn shame that International law means absolutely nothing to the US.


sábado, diciembre 13, 2003
On BodMod: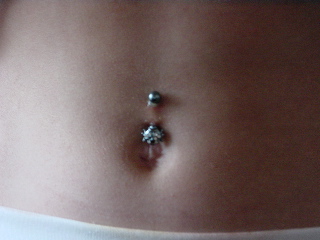 A couple of weeks ago I read a very interesting Newsweek article in which the journalist was more or less poiting the finger at the new uniformity of 'beauty', and what/who is considered to be beautiful/ugly/good looking/good shape.
The article explained that all in all, everyone tend to look like one ideal of beauty, a westernized one, a tasteless one, a politically correct one.
Everyone wants to look like Lucy Liu, Cameron Diaz, Liz Hurley. Oh, Botox, how they love ya!
Taking these informations into consideration, it is fairly easy to understand the great -as in, saviour-alike- role of the Body modification movement. It is one of the only way we have, as unique individuals, as humans, as people, to underline our differences.
It is one of the only way we have to have a direct, quick impact on people who don't know us personally, as physical changes that are willingly transforming one's appearance may be considered as the reflection of our inner self -thoughts, dreams, tribulations, ideas- brought to life
via
corporal modifications.
I suppose this is one of the main reason why i am fascinated by this trend. It seems to me it's a desperate call for more tolerance and humanity, as well as a strong spiritual reminder: we're all different but all the same (Cliché? i don't think so).
I am not sure that is the reason why I had my first bod mod three years ago. I don't think i was 'enlightenned' enough at the time to think in those terms, plus I'm sure there was a great part of curiousity pushed me into trying it.
My second one, made 2 years ago, had more to do with a personal need. The modification was a way that helped me not to forget something, something that i wanted 'on' my body as to never forget.
The third one was just pure pleasure. I wanted to do it because i truly thought it looked good. Anyone can, this way, become art. And i just really like the idea.
Because all i've had so far are piercings, i've been toying with the idea of tatooing. I feel a little scared about it, as the ink will be there forever, but... the idea sounds brilliant to me, and i'm sure i'll get it done sometimes this year. From a spiritual point of view, bodmod is a great concept in my eyes.
Because we're all different, but all the same.
martes, diciembre 09, 2003
Dave Barry's Xmas gift list guide: "You are sooo gonna buy your little sister
this
".
Haha.Ridiculous.
So i went to the festival.
And i saw
The thrills
the !!!
the Pest
Princess Lullaby
Gangstarr
BEN HARPER
and KEZIAH JONES
AND BETH GIBBONS feat the Peuple de L'herbe

the latest three being 'surprise-guests'... It blew everyone away. Picture 4000 persons screaming 'wecan'tbelieveit' as a Handsome, charismatic Ben Harper walked on stage with just his simple, oh so very simple guitar and his tender, deep, soulful, hurting, breath taking voice.

And oh, the beauty when Beth Gibbons, so so fragile, began to sing 'give me a reason to beee...', accompagnied with the greatest trumpet solo ever heard.

and given that it was too much of a musical shock for me and that it was a beautiful moment of social cohesion (sp?) and that really, hell, it was just moving, and given that i have to work really hard for an english exam that will be the end of me if i fail, i don't think i'll post anything until next friday.

But then, who knows...

viernes, diciembre 05, 2003
Off to the
Transmusicales
to see great live gigs, great people, great drunkness (not me, not me), great
décadence.
..
jueves, diciembre 04, 2003
So i truly hate adverts, and i hate the people who create them, and i hate hate hate adverts, no i mean REALLY, i really support organizations like the great AdBusters,
(website here)
, but sometimes you have to admit people who want to sell things are just really clever:
Well found, eh? I'm sure my english fellows will be eating caramels.
So there is some
people
lucky enough to have found Paul Auster's new novel, Oracle night, before everyone else.
I really, really can't wait to read it.
Auster is, i think, my personal god. He sees like through eyes i'd kill to have. Witty sarcasm mixed with Irony, pure beauty with a string taste for darkness, magic meeting coincidences...
The perfect urban artist. There's a short but interesting
interview
here.
Savage did it.
He'll be
spreading Santorum
like he spreads savage love.
If only there was a way he could do the same for Bush, as a good and respectable democrat. That would be the best act of political resistance EVER.
miércoles, diciembre 03, 2003
I'd really post something if i wasn't so sick right now. And if i didn't have 154545 papers to write. And if i wasn't going to go back home right now make some tea, read Sharron Maas's (sp?) first book and sleep because, did i mention this, i'm sick.

Bloglateryall....

martes, diciembre 02, 2003
Oh, Paris, How u hate thee. How i love thee.

Not Paris Hilton. Unfortunately.

I spent a delicious week end with friends wandering in Paris' streets, from le Marais to Montmarte, two of the best places in the whole world.

Of course it's all getting ugly with more and more tourists-shops, and of course Paris is grey and cold and mean and snob, but really, these two places are impressive. Standing at the top of Montmarte's hill, catching the view of Paris, the whole fucking city from there, standing next to the scaré coeur, this is breath taking. I could find some of the elements of romantism that seem to have long gone in the city.

As for Justin Timberlake ladies and Gnet's, i'm not ashamed to say he was great. The musicians were great, his beat boxing had everyone going wild, his 'where is the love' with the Black eyed peas was terribly impressive (17.000 people singing together 'where is the love' IS always impressive), and his vintage clothes got me thinking he was too cool for his own good.

Now i'm just sorry to be back to UNiversity.